Did I add enough rewards?
Come one come all, here you'll redeem your forum posting points! What are these you ask?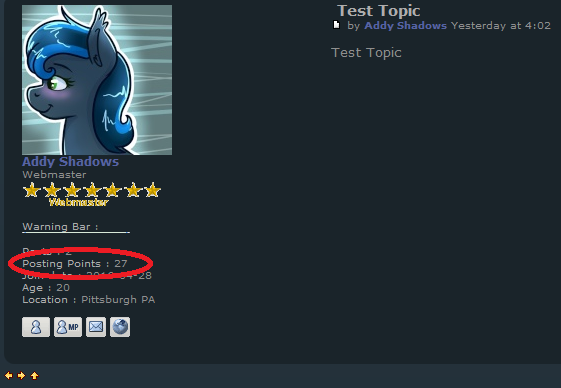 The image above shows what the posting points are and how to check them! You gain these points by posting throughout the forum.
From time to time if you accumulate enough points you can trade them for rewards, to do so you simply make a new topic in this part of the forum titled "Redeeming Points <yourUsernamehere>" Then inside that topic you post what you want to redeem.
From that point as long as you have enough points to redeem, I or another admin will deduct the amount from your profile and grant you the reward you want!
Now you're probably wondering what the rewards are, well let me just lay them out for you, more can be added, if you have a suggestion for a reward post it in this topic, but keep in mind only the rewards in THIS post (I.e. mine) Are valid rewards that you can redeem, I'll edit these from time to time.
REWARDS
Username Change - 1,000 Points
Custom Title - 5,000 Points (Like how mine is Webmaster, different from your normal title.)
Custom Username Colours - 10,000 Points (See my username how its all rainbow like just need one of them thar #000000 code things for the colours.)
Custom Rank - 15,000 (Restrictions May Apply)
Reduce Warning Bar By 1 - 100,000 (Restrictions May Apply)
No spamming to get points now!
Similar topics
---
Permissions in this forum:
You
cannot
reply to topics in this forum